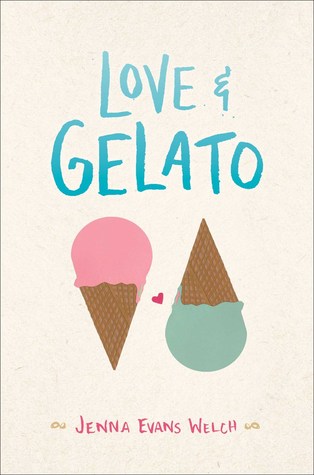 Lina's life has changed dramatically in the past few months.  After losing her mother to cancer, she finishes the school year living with her best friend's family.  Now that summer has come around, it is time for her to honor her mother's wishes, and spend time with Howard – the father she has never met, has only started hearing about, and lives in a cemetery in Italy.  Once Lina arrives in Tuscany, she is given a journal that was written by her mother when she lived in Florence and details the love affair that led to Lina's existence and gives Lina hope that she will figure out why her mom wanted her to be here.  Lina also meets Ren (Lorenzo) another half American/half Italian who not only helps her deal with the journal, but also makes it way easier (and fun) to be living in Italy for the summer.
So obviously the cover drew me to this book.  Um, gelato?  Yes please!  I read this while on vacation, and I worried at the beginning that it was going to be this super sad cancer book that I would in no way want to be reading while vacationing at Disney World.  But it isn't like that at all.  Instead, it is a beautiful love story all around:  Lina getting to know and understand Howard and his role in how her life is now, Lina getting to know her mother and the love of her life, albeit posthumously, and Lina falling in love for herself.  The setting is beautiful… it helps that the author lived in Italy during her high school years, so it really feels authentic.  I've been to Florence myself, and I could bring back to mind some of the landmarks discussed perfectly.   And, yes, gelato.  In the book, Lina falls in love with a flavor of gelato called stracciatella, which is like chocolate chip but so much more than that.  I actually found a gelato place a couple days after I finished the book, and ordered myself a little stracciatella and it was AMAZING.
So there you go, a lovely contemporary romance in a beautiful setting.  And, gelato.
*****
Love & Gelato
by Jenna Evans Welch
Simon Pulse, 2016
389 pages
Source:  Library
*****
//ws-na.amazon-adsystem.com/widgets/q?ServiceVersion=20070822&OneJS=1&Operation=GetAdHtml&MarketPlace=US&source=ss&ref=as_ss_li_til&ad_type=product_link&tracking_id=sara023-20&marketplace=amazon&region=US&placement=1481432540&asins=1481432540&linkId=015cf6f836d2e85587247c7c224ba687&show_border=true&link_opens_in_new_window=true ——- var _gaq = _gaq || []; _gaq.push(['_setAccount', 'UA-23496794-1']); _gaq.push(['_trackPageview']); (function() { var ga = document.createElement('script'); ga.type = 'text/javascript'; ga.async = true; ga.src = ('https:' == document.location.protocol ? 'https://ssl' : 'http://www') + '.google-analytics.com/ga.js'; var s = document.getElementsByTagName('script')[0]; s.parentNode.insertBefore(ga, s); })();