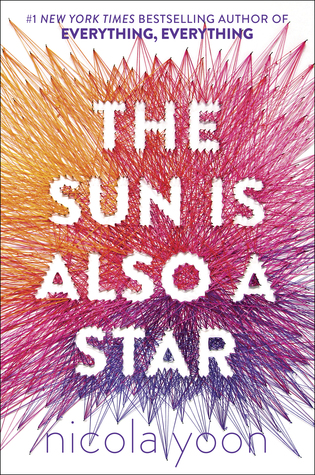 Ah, was it fate or mere coincidence?  Natasha and Daniel, both 17,  cross paths in the middle of New York City, and something takes hold.  Natasha is preoccupied, trying to find away for her family to stay in the country instead of being deported back to Jamaica later that night.  Daniel is on his way to an alumni interview for Yale, even though he really doesn't want to go to med school.  That's really his Korean immigrant parent's dream, not his.  And yet, both with their minds somewhere else…  Natasha and Daniel meet, connect, and work their way through the day.   It takes all day, but they realize that they want a future… they want a tomorrow to spend together.  Will they get the chance?
This book is incredible.  I loved that this was told from so many different perspectives.  We not only see things from either Natasha or Daniel's perspective, but we also get a glimpse at her father's, the lawyer's, even their hair's perspective on what their history has to say about the now.  It goes a long way to show how interconnected everything is, and how we can have a profound affect on another's life without even realizing it.  Is it fate or mere coincidence?
I was also very intrigued by the juxtaposition of these two different people from different cultures but both immigrants or a child of immigrants.  On the surface you might want to make a sweeping statement that they have both had very similar experiences coming to the United States, but that would be wrong.  One family came legally, the other not quite…  and was too afraid, once here, to try and become citizens.  Once discovered, they didn't understand the system (or was written off by the system) and didn't know how to properly appeal.  And then you see the devastation on the child who has effectively only known this country, this life, being forced to leave in this way.  Could this be any more timely?
I loved loved loved the ending!  (And that's all I'm going to say about that)
*****
The Sun is also a Star
by Nicola Yoon
Delacorte, 2016
384 pages
Source:  Library
*****
//ws-na.amazon-adsystem.com/widgets/q?ServiceVersion=20070822&OneJS=1&Operation=GetAdHtml&MarketPlace=US&source=ss&ref=as_ss_li_til&ad_type=product_link&tracking_id=sara023-20&marketplace=amazon&region=US&placement=0553496689&asins=0553496689&linkId=ff833cc4e8370d724ccb583abb14ebe2&show_border=true&link_opens_in_new_window=true —– var _gaq = _gaq || []; _gaq.push(['_setAccount', 'UA-23496794-1']); _gaq.push(['_trackPageview']); (function() { var ga = document.createElement('script'); ga.type = 'text/javascript'; ga.async = true; ga.src = ('https:' == document.location.protocol ? 'https://ssl' : 'http://www') + '.google-analytics.com/ga.js'; var s = document.getElementsByTagName('script')[0]; s.parentNode.insertBefore(ga, s); })();