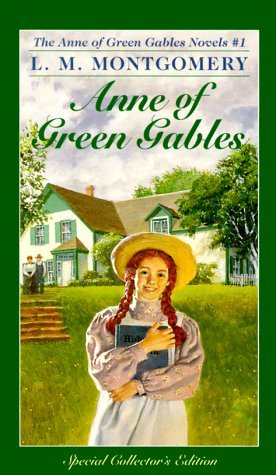 Anne Shirley is one of a kind.  When we first meet her, she is eleven years old and adopted by Matthew and Marilla Cuthbert (even though they had asked for a boy orphan).  Anne has a wonderfully active imagination, which tends to get her into some unusual situations.  This first book of the series follows Anne through her schooling – all the way through earning her Teacher's Certificate.  She makes deep, lasting friendships as with Diana Barry and holds a major grudge against Gilbert Blythe.  She wins over adults all over the town of Avonlea, and she definitely won over this reader.
I had never read this before, nor had I watched any of the film or TV adaptations.  All I knew was that this was a story that everyone seems to love.  And now I know why.
Anne is just so darn charming!  There is such an innocence and simplicity woven through this story that it feels like such a comfort to get lost in her story.  There are parts that are so awkward and funny that I found myself grinning like a fool and loving it.  There were also some very sad parts that I really had to push through because I had a feeling Anne would come out all right.  She is so positive and creative!  I thoroughly enjoyed her long-winded rambling speeches that would go from topic to topic and how exasperated Marilla would become from listening to them.  This book really is a treat.
I'll admit that I was a little skeptical, and thought that one book would really be enough for me.  However, I am now seriously considering reading on in the series.  I'd love to know what happens next at Green Gables!  (Don't tell me!!)
*****
Anne of Green Gables
by L. M. Montgomery
originally published 1908
314 pages
Series:  Anne of Green Gables #1
Source:  Gift
*****
//ws-na.amazon-adsystem.com/widgets/q?ServiceVersion=20070822&OneJS=1&Operation=GetAdHtml&MarketPlace=US&source=ss&ref=as_ss_li_til&ad_type=product_link&tracking_id=sara023-20&marketplace=amazon&region=US&placement=1909621145&asins=1909621145&linkId=c8f8028b0f52eefc277d0f41db7ac21e&show_border=true&link_opens_in_new_window=true —– var _gaq = _gaq || []; _gaq.push(['_setAccount', 'UA-23496794-1']); _gaq.push(['_trackPageview']); (function() { var ga = document.createElement('script'); ga.type = 'text/javascript'; ga.async = true; ga.src = ('https:' == document.location.protocol ? 'https://ssl' : 'http://www') + '.google-analytics.com/ga.js'; var s = document.getElementsByTagName('script')[0]; s.parentNode.insertBefore(ga, s); })();