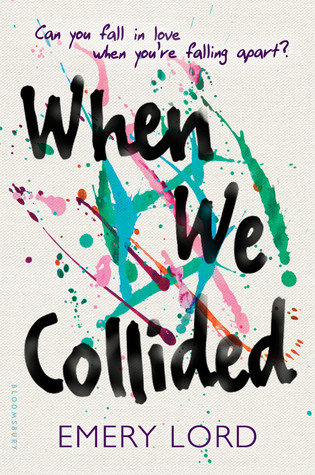 Vivi swirls into Verona Cove like the glittery sparkly fun loving spirit she is.  People are drawn to her and she makes friends quickly.  She meets Jonah one morning, and sparks fly.  Jonah is hanging on with all he's got – its only been six months since his father died suddenly.  He's trying his best to take care of the three younger siblings with his two older siblings as their mother grieves alone in her bedroom, unable to function in her sadness.  Jonah is swept up in Vivi's wild spirit that exudes happiness.  Everything is great… until it isn't.  Vivi hasn't shared her complete story with Jonah, and it very nearly kills them both.
I feel at this point I am just going to fall in love with anything Emery Lord publishes.  Its just the honest truth.  I loved Vivi and Jonah from the moment I met them.  I got swept up in Vivi too.  She has such a powerful personality that even when I could see things shifting a bit for her, I felt helpless.  I wanted to reach in the pages and help her, though I didn't know how.  And I was scared for Jonah…  really, really scared.  Already grieving, what would Vivi do to him?
The bottom line is that this is just a raw, honest and emotional look inside mental health – something that we just don't get to do enough.  I know someone who struggles with mental health issues, and so much of what was going on in this book felt true to what I witnessed in real life.  And I didn't know how to help.  I'm still not sure and I'm working on that.  I feel like the conversation is becoming more open though, at least I hope it is.  Books like this are certainly going to help to that end. It isn't an easy ride and you'll want your tissue box near, but it is worth it.
*****
When We Collide
by Emery Lord
Bloomsbury, 2016
352 pages
Source:  ALAMW16
*****
//ws-na.amazon-adsystem.com/widgets/q?ServiceVersion=20070822&OneJS=1&Operation=GetAdHtml&MarketPlace=US&source=ss&ref=as_ss_li_til&ad_type=product_link&tracking_id=sara023-20&marketplace=amazon&region=US&placement=1619638452&asins=1619638452&linkId=94444a23b855781d7916da21c3fa4313&show_border=true&link_opens_in_new_window=true —– var _gaq = _gaq || []; _gaq.push(['_setAccount', 'UA-23496794-1']); _gaq.push(['_trackPageview']); (function() { var ga = document.createElement('script'); ga.type = 'text/javascript'; ga.async = true; ga.src = ('https:' == document.location.protocol ? 'https://ssl' : 'http://www') + '.google-analytics.com/ga.js'; var s = document.getElementsByTagName('script')[0]; s.parentNode.insertBefore(ga, s); })();