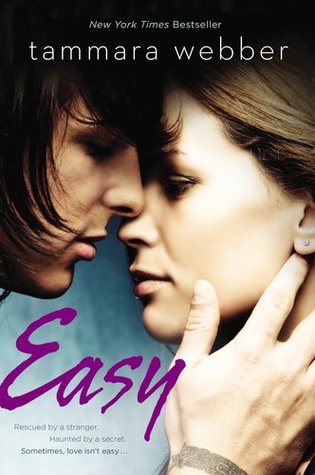 Jacqueline isn't sure how she got to this point.  She has just started her sophomore year at college – it wasn't her choice of school, but rather her boyfriend's.  The boyfriend, Kennedy, who just suddenly dumped her two weeks ago.  It looks like she might fail one of her classes – something she has never been close to doing before.  Now, after a Halloween party at Kennedy's frat, she is assaulted an nearly raped.  Luckily, a stranger stepped in and rescued her.  Now that stranger, Lucas seems to be everywhere and Jacqueline can't stop thinking about him.
This came highly recommended by a friend, and I was interested as I haven't really read many New Adult books.  This I liked and read it in one day!  There was a lot going on in here, and I really liked how it went together.  Yes, one of the intended "twists" was painfully obvious from the start, but it all went further than that.
I didn't intend to read another book dealing with rape quite so soon.  (See:  All The Rage)  I really didn't know that was part of this story.  Here we are in a college setting, and the Greek system is heavily referenced (Jacqueline is not a member, but her roommate/best friend and her ex boyfriend are).  There comes a point where Greek politics tries to make a situation theirs, and it plays out in the way I had hoped.  This is as much a love story as it is about surviving and self-empowerment and being a truly supportive friend.  AND it has resources and an author's note at the end which I think is so so important in a book like this.
The bottom line is that I enjoyed this and thought it was a fun, light, entertaining read with just enough sexytimes for me.  I think I'd like to read more of this, or at least have it on hand when I just need a little something in between heavier books.  If you have any recommendations, please let me know!
*****
Easy
by Tammara Webber
Berkley, 2012
310 pages
Series:  Contours of the Heart #1
Source:  Purchased New
*****
//ws-na.amazon-adsystem.com/widgets/q?ServiceVersion=20070822&OneJS=1&Operation=GetAdHtml&MarketPlace=US&source=ss&ref=ss_til&ad_type=product_link&tracking_id=sara023-20&marketplace=amazon&region=US&placement=0425266745&asins=0425266745&linkId=Q7KYUFBJ4RLEL7AW&show_border=true&link_opens_in_new_window=true —– var _gaq = _gaq || []; _gaq.push(['_setAccount', 'UA-23496794-1']); _gaq.push(['_trackPageview']); (function() { var ga = document.createElement('script'); ga.type = 'text/javascript'; ga.async = true; ga.src = ('https:' == document.location.protocol ? 'https://ssl' : 'http://www') + '.google-analytics.com/ga.js'; var s = document.getElementsByTagName('script')[0]; s.parentNode.insertBefore(ga, s); })();