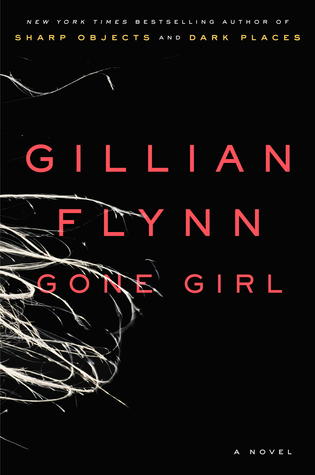 I realize that I am just about the last person ever to read this book.  I've had it on my shelf for years, but just couldn't do it….  the hype around it was too much and it turned me off.  I've put it on my TBR Challenge for the past two years, and this year I'm participating in RIP X and finally, finally told myself to suck it up and read the damn thing.
I wish I hadn't.  I'm sorry, but it's true.
Amy Dunne disappears from her home on the day of her 5th wedding anniversary to her husband Nick.  Their marriage hasn't been the greatest lately, as there was still the lingering stress over both of them losing their awesome NYC jobs and deciding to move back to Missouri to care for Nick's ailing parents.  Now Amy is missing, and the clues start adding up to homicide.  It really starts to look like Nick killed her.
I think everyone got all excited about a story with a ton of crazy twists thrown at them…. that's my guess anyway.  But in my opinion, you could see all those twists coming a mile away and they seemed crazy because they were.  Crazy as in impossible.  Crazy as in unbelievable.  And I didn't even like these characters.  I didn't like Nick and I didn't like Amy.  Even as the book went on and it was clear that you were supposed to soften toward one or the other, or maybe take sides on who did it?  or what really happened?  or who is to blame?  The fact is that they both suck.  I'm not one who feels like I need to bond or relate to a character to like the book – but my intense dislike of just about everyone in this book helped to kill this book for me.  Maybe I like Nick's twin sister a bit.  But that's not enough.
The story doesn't even start to get interesting until about 100 pages in, and I really really should have just stepped away.  Lesson learned.
Oh, and my husband actually liked this movie and thinks I should watch it.  I think I'll pass.
*****
Gone Girl
by Gillian Flynn
Crown, 2012
415 pages
Source:  Gifted
*****
//ws-na.amazon-adsystem.com/widgets/q?ServiceVersion=20070822&OneJS=1&Operation=GetAdHtml&MarketPlace=US&source=ss&ref=ss_til&ad_type=product_link&tracking_id=sara023-20&marketplace=amazon&region=US&placement=0307588378&asins=0307588378&linkId=FPT4HB5LTDXRSRYA&show_border=true&link_opens_in_new_window=true —– var _gaq = _gaq || []; _gaq.push(['_setAccount', 'UA-23496794-1']); _gaq.push(['_trackPageview']); (function() { var ga = document.createElement('script'); ga.type = 'text/javascript'; ga.async = true; ga.src = ('https:' == document.location.protocol ? 'https://ssl' : 'http://www') + '.google-analytics.com/ga.js'; var s = document.getElementsByTagName('script')[0]; s.parentNode.insertBefore(ga, s); })();