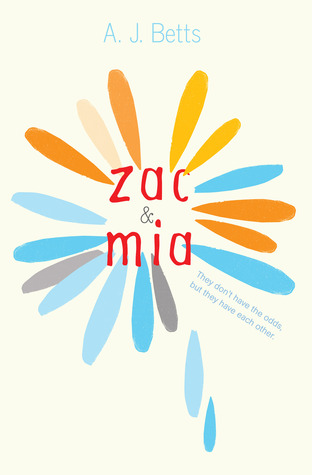 They met in the most unlikely of places – the cancer ward while Zac was actually being kept in isolation following a bone marrow transplant.  It started with a knock on the wall, something to let the other know that someone was there, listening.  This was Mia's first time on the cancer ward though and she wasn't dealing with her diagnosis very well.  They made a strange sort of connection – one that would have never happened had they met anywhere else – and this friendship became more important than either could have imagined.
So, yes, this is a 'cancer book'.  If that is an instant turn-off for you, then there you go.  This is told from the perspective of each character, but in a different way.  The first third is told from Zac's point of view, the middle third switches back and forth between Zac and Mia, and then we finish the last section in Mia's voice.  I thought this was a interesting way to tell the story.  But since I got to know Zac first, I liked him immediately… and could not wrap my head around Mia at all.  So by the time I was given the chance to get to know her – it was going to be a tough sell.
As one who really loves YA contemporary fiction, I really wanted to like this book more than I did.  In the end, it was really just okay for me.  I did love that this is set in Australia and is by an Australian author and this is reflected in the language used.  But really, this is a quick read for someone who just loves realistic fiction that has to do with illness and finding strength within yourself with a side of romance.
*****
Zac & Mia
by A.J. Betts
HMH for Young Readers, 2014
289 pages
Source:  Purchased New
*****
//ws-na.amazon-adsystem.com/widgets/q?ServiceVersion=20070822&OneJS=1&Operation=GetAdHtml&MarketPlace=US&source=ss&ref=ss_til&ad_type=product_link&tracking_id=sara023-20&marketplace=amazon&region=US&placement=0544331648&asins=0544331648&linkId=6IEIECLHNIPV635E&show_border=true&link_opens_in_new_window=true —– var _gaq = _gaq || []; _gaq.push(['_setAccount', 'UA-23496794-1']); _gaq.push(['_trackPageview']); (function() { var ga = document.createElement('script'); ga.type = 'text/javascript'; ga.async = true; ga.src = ('https:' == document.location.protocol ? 'https://ssl' : 'http://www') + '.google-analytics.com/ga.js'; var s = document.getElementsByTagName('script')[0]; s.parentNode.insertBefore(ga, s); })();