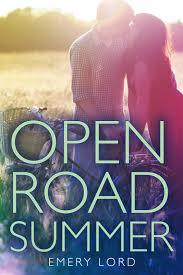 Reagan O'Neill is coming out of a bad spell, the cast on her arm is certainly physical proof of that.  So this summer, she is spending the summer with her best friend Dee.  Of course everyone in the world knows her as Lilah Montgomery, teen country super star, but to Reagan she's just Dee.  The same Dee she's known since 3rd grade, the same Dee that has always been there for her every time she has gotten in trouble, the same Dee who had her heart broken very recently.  So Reagan and Dee are embarking on Dee's Summer Tour and everything is fun and wonderful until a tabloid runs a story that insinuates Dee in a scandal.  Dee is rocked to her core and Reagan goes into protective mode.  The publicist decides to bring a new opening act onto the tour – a handsome, talented musician named Matt Finch and that's when things really get interesting.
This book came highly recommended – and then was given to me – by someone I trust completely.  She knows my reading tastes, and she got me perfectly with this one.  I loved this book!  Reagan is kind of broken, physically and emotionally, by more than one event in her life.  Some were based in her bad choices, and in others she was the innocent victim.  The friendship she has with Dee is rock solid and is pretty much the only thing she can really trust.  When Matt enters their tour bus cocoon, Reagan is caught off guard.  Can she trust him like Dee trusts him?  Who is he really?  He totally screws up Reagan's plan of just spending time with Dee and rebuilding herself.  Or at least that is what she thinks at first…  The characters are just so awesome, and while I certainly can't relate to the whole stardom thing, it still all felt realistic.  I think it may have something to do with the silly things that I would totally do with my best girlfriends too or the incredible dialogue between these characters….
This is such a fun summer road trip romance book that I just fell for.  LOVED this one and can't wait to read more!  The friend who sent me this tells me that there is a new potential book boyfriend I have to meet soon….
*****
Open Road Summer
by Emery Lord
Walker Books, 2014
342 pages
Source:  Gift
*****
//ws-na.amazon-adsystem.com/widgets/q?ServiceVersion=20070822&OneJS=1&Operation=GetAdHtml&MarketPlace=US&source=ss&ref=ss_til&ad_type=product_link&tracking_id=sara023-20&marketplace=amazon&region=US&placement=0802736106&asins=0802736106&linkId=WGDS2ZUNWLQERIAK&show_border=true&link_opens_in_new_window=true —– var _gaq = _gaq || []; _gaq.push(['_setAccount', 'UA-23496794-1']); _gaq.push(['_trackPageview']); (function() { var ga = document.createElement('script'); ga.type = 'text/javascript'; ga.async = true; ga.src = ('https:' == document.location.protocol ? 'https://ssl' : 'http://www') + '.google-analytics.com/ga.js'; var s = document.getElementsByTagName('script')[0]; s.parentNode.insertBefore(ga, s); })();