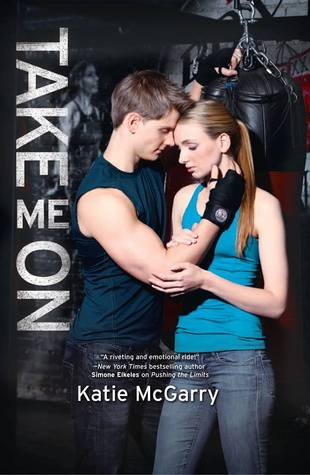 Haley Williams was a champion kick boxer, but something happened six months ago that made her give up fighting.  She just can't do it.  One night she is attacked and West Young, never one to back away from a fight, steps up to defend her – not realizing that she is more than capable of taking care of herself.  But it doesn't just end there – in order to settle things once and for all – there is going to be a fight, and West has agreed to fight for Haley.  Despite wanting to stay away from fights forever, Haley must train West as best she can so they both have a chance to walk away.  Especially since it seems like they are falling for each other – hard.
Almost this entire story takes place between the story and the epilogue of Crash Into Me, as West is Rachel's older brother.  West is still reeling from Rachel's accident, and his relationship with his father is at an all-time low.  So from that story, we get updates on Rachel and barely see Isaiah, but Abby figures in to West's new reality.
I love that Haley's a fighter.  She's physically strong and knows exactly what she's doing…  but she over thinks and she's afraid because of things that have happened in her life.  She's broken but not destroyed…. not yet.  It was a little difficult to buy into her family drama though…  I get how it was set up and all, but it just seemed like too much.
I definitely liked this book – I mean, I read the majority of it in one day.  But I think I would have enjoyed it more had I taken more of a break between this and reading her previous books.  There were some twists regarding West and his mom that I didn't expect and I liked how they ultimately played out.  This hardcover edition came with the novella Crossing The Line in the back, but I'm not going to read it now.  I think that needs to wait a bit.
*****
Take Me On
by Katie McGarry
Harlequin Teen, 2014
455 pages
Series:  Pushing the Limits #4
Source:  Library
*****
//ws-na.amazon-adsystem.com/widgets/q?ServiceVersion=20070822&OneJS=1&Operation=GetAdHtml&MarketPlace=US&source=ss&ref=ss_til&ad_type=product_link&tracking_id=sara023-20&marketplace=amazon&region=US&placement=037321118X&asins=037321118X&linkId=&show_border=true&link_opens_in_new_window=true —– var _gaq = _gaq || []; _gaq.push(['_setAccount', 'UA-23496794-1']); _gaq.push(['_trackPageview']); (function() { var ga = document.createElement('script'); ga.type = 'text/javascript'; ga.async = true; ga.src = ('https:' == document.location.protocol ? 'https://ssl' : 'http://www') + '.google-analytics.com/ga.js'; var s = document.getElementsByTagName('script')[0]; s.parentNode.insertBefore(ga, s); })();